Expert Auto Service in Cedartown is the Key to a Durable and Reliable Ford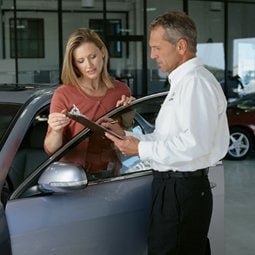 Servicing your vehicle regularly is beneficial in so many ways. It not only keeps your vehicle running smoothly and safely, but it also allows a technician with a good eye to catch any potential issues before the evolve into something a bit more threatening or costly. When you're ready to service your vehicle next, or your vehicle needs a repair or new part, make sure to choose a reliable, expertly staffed service center like ours here at Peach State Ford.
Our service center is conveniently located right here at the dealership, and we're ready to cater to any and all of your service-related needs as they arise. If you're from the Cedartown, Dallas or Rockmart areas, you can without fail count on our certified technicians to perform any services your vehicle needs quickly and efficiently. We aim to deliver the highest level of automotive service to our customers in and around Bremen, Temple and beyond. Whether your vehicle needs an oil change, front-end alignment, fluid flush or something a bit more time-consuming and serious like a new part or an intricate repair, our service center is always on standby. We also only use certified parts when we make repairs, which means your vehicle will be outfitted with auto parts that come straight from the manufacturer. Using certified parts means your vehicle is receiving a part that it was originally engineered with. This allows you to drive with confidence knowing that your vehicle has been repaired correctly and with the right products.
When the time comes for your next service appointment, don't hesitate to schedule with us. You can schedule easily here on our website, as well as by calling us or stopping in and making an appointment in person.